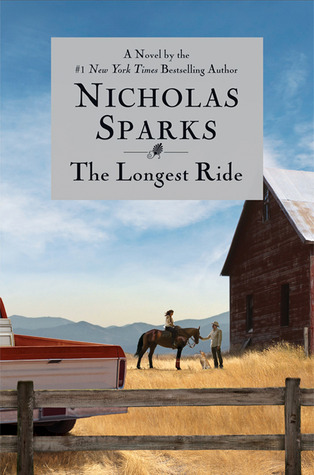 I made this book review a long time ago.... so the format is entirely different from how I write my reviews.
The Longest Ride
by Nicholas Sparks
Add to Goodreads
Published by:
Grand Central Publishing on September 17, 2013
Genres:
Adult Fiction, Contemporary-Romance
Pages:
398
Source:
National Book Store
My Rating:
4/5
Ira Levinson is in trouble. At ninety-one years old, in poor health and alone in the world, he finds himself stranded on an isolated embankment after a car crash. Suffering multiple injuries, he struggles to retain consciousness until a blurry image materializes and comes into focus beside him: his beloved wife Ruth, who passed away nine years ago. Urging him to hang on, she forces him to remain alert by recounting the stories of their lifetime together – how they met, the precious paintings they collected together, the dark days of WWII and its effect on them and their families. Ira knows that Ruth can't possibly be in the car with him, but he clings to her words and his memories, reliving the sorrows and everyday joys that defined their marriage.
A few miles away, at a local rodeo, a Wake Forest College senior's life is about to change. Recovering from a recent break-up, Sophia Danko meets a young cowboy named Luke, who bears little resemblance to the privileged frat boys she has encountered at school. Through Luke, Sophia is introduced to a world in which the stakes of survival and success, ruin and reward -- even life and death – loom large in everyday life. As she and Luke fall in love, Sophia finds herself imagining a future far removed from her plans -- a future that Luke has the power to rewrite . . . if the secret he's keeping doesn't destroy it first.
Ira and Ruth. Sophia and Luke. Two couples who have little in common, and who are separated by years and experience. Yet their lives will converge with unexpected poignancy, reminding us all that even the most difficult decisions can yield extraordinary journeys: beyond despair, beyond death, to the farthest reaches of the human heart.
(c) Goodreads
As you guys can tell from my to be read shelf, I am a sucker for any Nicholas Sparks books. To be honest, I only read three of his works including this book. I don't know why exactly, but he has been my favorite author for a while now. I actually started liking him because of the books that has been turned into a movie. The first film that I watched was The Last Song which stars my favorite popstar when I was younger, Miley Cyrus. And hell did I love it! I mean, of course the fact that Miley was there was already a big reason to love it, but the movie wouldn't have been that good if it weren't for Nicholas Sparks who wrote the book.
Now before I ramble more about The Last Song rather than this book, I should start.
TBH, the first time I read it, it took me quite a while to get into it. You would've seen my reading process if you have been following my account. I always updated my status with 'Took me quite a while to get into it," and "this gets better." It wasn't because I was not interested, but because I cannot really concentrate into reading the book. Why? Because I read his more realistic-romance novels, rather than this romance-drama-fiction type. Sooo... it took me a week to actually start liking it. I was stuck in the half of its 2nd chapter. What I did? I stopped reading it for days. Just to freshen up a bit. And it worked! As soon as I went back to reading it, I couldn't put the book down. (that's a little tip for you readers out there! haha!)
Chapter-wise
Sometimes, a chapter is full of a character's thoughts, which I really did not mind. But for some readers, this would probably be one of the boring chapters. There were also a lot of flashbacks in this novel. So if you hate them, I'm not going to say don't read it (because this book might acually give you second thoughts on that), this is not a book that you would be obsessed with.
Per chapter, the point-of-view skips from one character to another. And take note that there are actually two stories in this book. One is about Ira Levinson (the old man that gets into a car crash), and the other is about Sophia and Luke (two young misfits from North Carolina). So you might get a little, just a little, confused as it skips, given the fact that they came from far states and stuff. The chapters are long, so be reminded of what happens at the end of each character's perspective.
Character-wise
All of the characters in this novel is realistic, one of the many reasons why you should love Nicholas Sparks. I hate characters that acts so good neither the ones that acts so bad (though bad characters are more realistic cause they do exist. haha! just my opinion!). Well of course, except for Ruth. Because not all people believes in ghosts. Soo...it's up to you to judge her character.
Ira Levinson
Ira is a man of good character. He can be a bit vulnerable sometimes, but he loves so much! You can mostly see it on the flashbacks (so you better read'em. NO SKIPPING!). He embodies those men that are a real gentleman towards women.
Sophia Danko
Now this is a character that I love. She's the representation of all girls. Had been hurt once, but learned to get up on her feet. If you haven't experienced what she did, you're not a normal girl.
Luke Collins
The embodiment of one true man! Haha! Since he grew up in this state where horses and trucks are used instead of fancy cars, he had learned to value everything around him. He's your perfect cowboy! Innocent, gentleman and protective. I don't think you can ask more from him.
Content-wise
Marvelously made! Nicholas Sparks weaved the chapters into one good book. He drops off little clues that will form questions in your mind and prepare you for revelations. He also made most of the chapters believable except for the whole auction part that you will encounter on the last few pages. It didn't bother me though. You still have to put a little magical moment in your book for readers to love the ending. :)
XOXO, Risse
P.S.
Here are my links so we can talk all day err day!